Unlock the equity in your truck with an affordable semi-truck title loan or big rig title loan today.
Get Cash When You Need It Most
If you need cash to grow your trucking company or to cover short-term expenses, a semi-truck title loan or big rig title loan might be your best option. These loans use your trucks as collateral so you can get approved quickly, even if you have bad credit.
At Champion Cash Loans, we can help you get instantly approved for a semi-truck or big rig title loan in less than 24 hours. If you are ready to make your truck's equity work as hard as you do, apply online today or contact us to learn more about all our commercial truck title loans.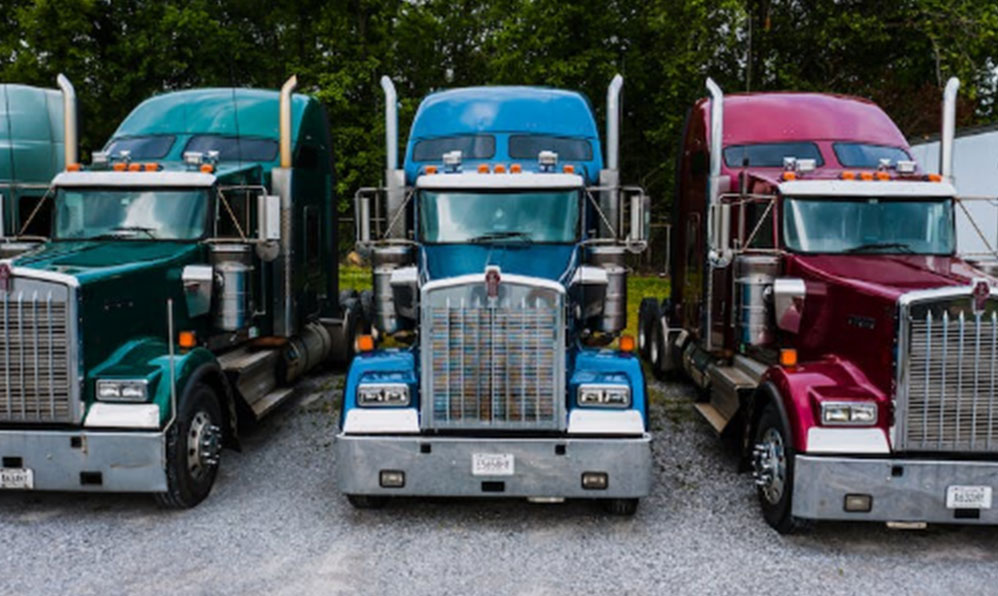 What is a Semi-Truck or Big Rig Title Loan?
Like other vehicle title loans, a semi-truck or big rig title loan allows you to borrow against the value of your truck. Your truck acts as collateral if you default on your loan. This means we can approve your loan even if you have poor credit or no credit.
We'll hold the title of your truck until you repay your loan. However, you can continue to use your commercial truck as you usually would as long as you are adequately insured and have a valid CDL.
How Much Can I Borrow with a Commercial Truck Loan
Typically, title loans allow you to borrow between 25% to 50% of your vehicle's value and are ideal for people who own their commercial vehicles outright. The repayment period for big rig and semi-truck title loans is usually around 15 to 30 days but can be longer if you choose.
Commercial Trucks Eligible for Title Loan
You can borrow against the title of most commercial vehicles, including big rigs, flat-bed trucks, semi-sleepers, tow trucks, and more. Our knowledgeable agents can help determine if your title is eligible. You must own your truck outright to qualify for a title loan. Be sure to check what the lender requires before you apply for a loan.
Why Choose a Big Rig or Semi-Truck Title Loan?
There are many reasons to consider title loans for semi-trucks and other commercial vehicles. See why semi-truck and big rig lending can be a smart choice for your business.
Reinvest in Your Business
Our semi-truck and big rig loans let you use the cash value in your trucks for anything you'd like. This can include investing in equipment, hiring drivers, covering marketing costs, and more.
When running your trucking company, you can easily find yourself buried under fluctuating fuel prices, regular repair costs, and other expenses. Our affordable commercial truck title loans allow you to cover those expenses easily.
Continue to Use Your Truck
Our commercial truck title loans allow you to take advantage of both your truck and your truck's monetary value instead of selling your vehicle in lean times.
Much Faster Than Traditional Loans
The traditional loan process can take several weeks, and you still might not get approved if you have poor credit. Even if you get approved, you may still need to wait several days before receiving your money. At Champion Cash Loans, we can get you approved in about 15 minutes. We understand you need the money fast, which is why we work quickly to approve your loan and disperse funding.
How to Get Title Loans for Commercial Vehicles
To start the process, you'll need a valid ID, your truck's registration, proof of insurance, proof of income, a business checking account, and a business address.
Step 2: The Application Process
To apply, fill out our online form or give us a call. Instant approvals are only available over the phone.
Step 3: Receive Your Funding
Once approved, we can deposit your funds into your bank account in as little as 24 hours.
Loan repayment terms are typically a month or less. However, there is no penalty for repaying your loan early. Apply today to get started.
Why Choose Champion Cash Loans?
Champion Cash Loans is one of the nation's most trusted providers of personal and commercial truck title loans. Continue reading to see why our clients trust us.
Navigating different loans can feel overwhelming, but we are here to help. We will take the time to make sure that you understand your loan and the amount of interest owed. This allows you to borrow with confidence.
Champion Cash Loans is here for you when you need a team you can count on. We are accredited by the Better Business Bureau and are committed to excellent service from start to finish.
Licensed and Bonded to Commercial Truck Title Loans
We are fully licensed and bonded in the state of California operating under the California Finance Lenders Law License Number: 60DBO-35846.
Same-Day Funding Available
Need money right away? Give us a call, and we may be able to help you get the financing you need the same day you call. Applying for instant online title loans can help you get your money in less than 24 hours.
We work with all the top lenders so that you can get multiple quotes at once. This allows you to get the best rates and terms for your needs. Our agents will help you navigate all your options to make an informed decision.
What is the average loan term for a semi-truck?
While most of our semi-truck title loans are short-term loans, we also offer the option to extend your payments over several months. There is also no penalty for paying early.
Friendly, Transparent Service
Have questions about your loan or the application process? Our knowledgeable team is always here to help. You'll also never have to worry about surprise expenses or hidden costs.
How Much Do Semi Title Loans Cost?
Commercial truck title loan interest rates vary. However, at Champion Cash Loans, we work hard to provide you with the best possible interest rates, with no hidden fees or penalties for paying early.
What credit score is needed for a semi truck title loans?
For a commercial truck title loan good credit is not required, but we will run a quick credit check to look better understand your interest rates.
Apply for a Semi-Truck or Big Rig Title Loan
If you are looking for the best "commercial truck title loans near me" or "semi truck title loans near me," you are in the right place. Apply online today or give us a call today for instant approval.