What could be better than achieving complete financial freedom? When thinking about how to track spending money and managing it smartly, we are planning for the future. Financial freedom is one of the main goals for many, especially now more than ever. Considering the turning of events due to the game-changing COVID-19 pandemic.
The idea is that once we achieve it, we can finally stop worrying about our financial situation and focus instead on what really motivates us. Some like our life goals, and personal endeavors. So, how do you reach that point where you can call yourself financially free? You can start by tracking your monthly spending! Let me explain how in 3 simple steps.
Step 1: Choose An App Or Tool To Get Started
There are many options available to record your expenses. For some, it can be easier and faster to keep track of all disbursements through online tools. Others still prefer to go the old-school way: pen and paper budgets. Personal finance apps are an efficient and sophisticated option if you want to keep all of your expenses recorded, broken down, and analyzed. Apps do this automatically with extreme attention to detail.
Be sure to check our carefully chosen list of the 12 best personal finance apps in 2021 and choose whichever fits your needs and appeals to you. You can always go for a classic budget planner. If you are one of those people who would rather break down the numbers and scrutinize the details by hand. Or even typing everything down in a simple —yet incredibly useful— Excel spreadsheet.
Step 2: Record All Expenses
This is the part where you want to be very disciplined and constant to get accurate data. When we say all expenses, we really mean ALL of them. This is crucial to get the real figures so that you can determine if you need to make any changes in your money habits. Remember any purchase or payment that you don't register can alter your budget. You don't need to be updating your record 24/7 nor register each item that you spent money on the minute you make the payment.
It's simply a matter of saving all the receipts, checking your account statements, and having a set day (or days) per week to update your expenses thoroughly and accurately. Another important and useful tip is to categorize your expenses. Many apps will automatically show a list of categories for you to choose from when inputting new data, as well as the option to create new ones.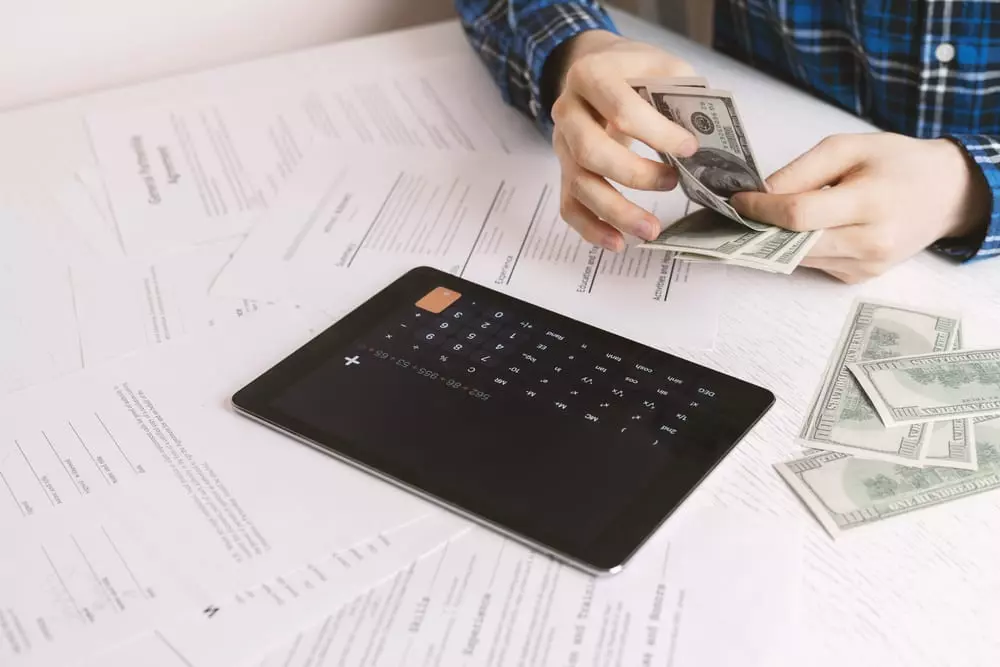 Step 3: Create A Budget And Stick To It To Track Spending
Now that you have an exact record of your monthly expenses, you can use this valuable information to make some needed changes in your money habits. Start by spotting those categories in which you usually spend the most money. Although you may not be able to cut down on living essentials such as rent, utilities, loans, transportation, credit card bills, and insurance. There are definitely some other things you might be spending a little bit too much on. Such as your morning coffee that you can say bye-bye to (or at least set a limit to).
Not many people are used to keep separate budgets or savings for expenses. Which would save some time for the budgeting process. An easy alternative is to go for the famous envelope system. When following the envelope system, your goal is to keep each category's budget nice and separate, so that way you HAVE to stick to the money you have kept for a specific purpose, and not borrow from other categories' budget. There are many budgeting apps as well that can help you manage what you're taking in and what you are spending. Our list of 12 best personal finance apps in 2021.
What Are The Benefits?
There are many reasons to keep track of your spending, no matter your age nor your work area. It's easy for us to lose track of our purchases and investments, especially if we tend to indulge and treat ourselves, or others. Tracking your spending will help you look at the broader picture and identify each and every decision and move being taken. "Are all of my expenses really necessary? Should I lose some of my bad money habits? Am I keeping myself from achieving financial freedom?" These are all questions that may come to mind when paying attention to our bank account movements and expense records.
After taking decisions regarding your financial life, you should begin to notice an overall awareness. This awareness will now be present when deciding what to spend money on and whatnot. Maybe you'll discover you have been unnecessarily buying from expensive brands, or buying things that could easily be done home, etc. Every person has different needs and wants. It's just a matter of prioritizing and learning to be disciplined with one's purchases.
Spend Less Than What You Earn
The trick to successful budgeting is to spend less than what you earn. This also applies to credit cards and loans. We've all been in a place where both solutions were completely necessary and a blessing to our problems. However, be smart regarding every move within your financial decisions, since they all affect your future. For some, it's not just about worrying and providing for oneself, but also for a spouse, children, pets, and other family members as well.
This makes it an even bigger responsibility to be in control of your finances. Choose wisely when it comes to money decisions. With this being said, many couples choose to track their spendings and follow a budget together. Most of the time they are splitting expenses and sharing a household, car, etc. A common method followed by many couples is the already mentioned envelope system. Both individuals can contribute to shared expenses. This way they are left with a clearer amount. One that can be used for other reasons, such as investments or holiday vacations.
Our Conclusion On How To Track Your Spending
As a conclusion for this guide, we want to remind you that if you are looking to track your spending, in order to improve your financial situation, you are only missing a few simple steps! It is as simple as being more aware of the spending, and the results are so beneficial and worthy. There are thousands of tools and options out there. Some will help you have control over your transactions and financial decisions better. Each one of them is designed to improve and ease your life. Remember you can even start by writing your everyday expenses in a small notebook. Small steps lead to key changes, and key changes can lead to thicker wallets! Check out Mashvisor for even more tips!