Table of Contents
Updated & Compliance Revised on 11/04/2023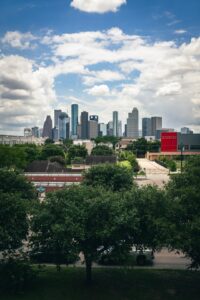 Hey there, Houston, are you in a bind for some quick cash? Champion Cash Title Loans has got your back, we know life in Texas can throw you curveballs, and when it does, you might need some extra bucks, fast. That's where title loans Houston, TX come in handy, and where we at Champion Cash make things super easy for you.
Title loans are pretty straightforward: you use your car title as a guarantee for a loan. The amount you can borrow depends on your car's value, but don't sweat it, because you get to keep driving your car while you pay back the loan. It's like having your cake and eating it too!
Now, let's talk about getting that cash. With Champion Cash Title Loans in Texas, we're all about getting you the money you need on the same day. Yep, you read that right – same day title loans! Our rates? Totally transparent. No hidden fees, no surprises. We lay it all out there because we respect you and your hard-earned money.
Applying is a breeze. Just pop into our Houston location or hit us up online. We'll check out your car, crunch some numbers, and voilà – you could have quick cash deposited directly into your account. We're talking the kind of speedy service that'll make your head spin, in a good way.
So, Houston, if you're looking to get your hands on some quick cash with clear, honest rates, Champion Cash Title Loans is your go-to spot. We're here to help you navigate the choppy waters of unexpected expenses with ease and speed. Swing by and let's get you on your way with the cash you need today!
Brief Introduction to Title Loans Houston
Do you find yourself googling title loans in Houston TX? Are you wondering how the title loan process works? Did you know that millions of people obtain title loans to help pay for unexpected expenses every year?
Contrary to popular belief, title loans can help you more than harm you. If you are looking for more information on title loans Houston TX, you came to the right article. We will briefly go over Houston title loans and who you can contact today to get approved!
What Is a Car Title Loan?
A title loan, also known as a title loan, is a loan for which you use your vehicle as collateral. These loans are outstanding if you are looking to get a quick loan. Think of it as a personal loan with a much high approval rate.
Why is there a higher approval rate? Because with a title loan you leave your car title as collateral in order to get a title loan. You get fast cash deposited into your bank account, unlike other loans.
A title loan is similar to a payday loan because it has a short payback period. There are usually no credit checks required to obtain a title loan. Find out what types of title loans we offer same-day funding. We have a quick approval rate regardless of credit type. As long as you have the required documents in other to get a title loan, we have the cash!
How to Get a Car Title Loan in Houston
To qualify for title loans in Houston TX, you must have equity in your vehicle. Some lenders require you to have a clean title before they consider offering you a loan.
The average loan amount awarded to people ranges between $100 to about $5,000. Some lenders will allow you to borrow upwards of $10,000.
Before you make a decision on the lender you will move forward with, make sure it isn't an unaffiliated third-party lender. Champion Cash Loans is the best title loan lender in Houston Tx.
Looking for a title loan in Harlingen? Click here!
Requirements for Car Title Loans Houston, TX
You can fill out our application online to get the title loan process as quickly as possible and without any hidden fees. but you may have to print out your application if you cannot apply online.
Make sure to bring the completed application along with your auto title and your most current check stubs. Some lenders may request that you bring at least two to three of your most recent check stubs.
Other things you will need to bring:
Most importantly, you will also need to bring your vehicle to the lender's storefront location. They will need to inspect the car to check its condition.
The lender will also want to confirm the vehicle's year, make, and model to make sure it matches the vehicle listed in the application. Your lender will make the loan offer after they inspect the vehicle.
What Happens After Loan Approval?
Once you receive approval for your online auto title loan, you will have to provide the lender with your vehicle's title. You will still be able to drive around in the car, but the lender may put a GPS tracker in your car. If you default on your loan, the lender has the right to repossess your vehicle.
Repayment Time for the Vehicle
Depending on your lender, you can expect to pay back the loan within fifteen to thirty days. The repayment time can also depend on the amount of the loan that you are approved for.
Some fantastic lenders provide title loans Houston TX that are flexible with their repayment time. These lenders can extend your repayment time from a month to a year if applicable.
Predatory Lending
It is important to note that not all car title loan places in Houston are the same; some are more predatory than others. Some companies prey on those of lower income and who are subject to accepting loans with high APR.
When a company preys on people subject to receiving these loans, it is considered predatory lending. These lenders' abusive loan terms are meant to target those who lack an understanding of significant financial transactions.
Make sure that you do your research before you settle with any car title loan location. Some fantastic lenders can get you better rates and are a bit more understanding of your circumstance.
What Is an APR?
APR stands for annual percentage rate, which is the yearly rate you are charged for borrowing from a lender. Before any agreement is signed, the lender must disclose the APR.
Be wary of any lenders who hide the APR up until it is time for you to sign. Some lenders may even go as far as not letting you know of the APR.
How much you will have as an APR on your loan depends on your credit. Make sure to ask about the possibility of having a lower APR offer or ask your lender why they are offering you such a high APR.
I Can't Repay My Auto Title Loan?
If you cannot pay your title loan, you need to reach out to your lender immediately. Your lender may be able to give you a grace period so you can catch up on your payment.
They also may be able to roll over your loan. When you roll your loan over into the next month, you will be required to pay that rolled over the amount in addition to your monthly scheduled payment.
If you never repay the loan, the lender will most likely repossess your vehicle. They will then sell the car and keep the money from the sale.
Are There Restrictions on Spending?
Once you are approved for the loan, you can use it for whatever you need to use it on. If you need to use that money to pay a bill, you can do that. If you need the money to cover another unexpected expense, you can also use the loan for that.
How Much Cash Can I Get?
Title loans are outstanding for those who are looking for quick cash to help with unexpected expenses. As long as you follow your repayment terms and communicate with your lender, you should be able to get back on your feet in no time. We are helping the residents of Texas across the state.
If you or someone you know is looking for title loans in Houston TX, contact us now. We at Champion Cash Loans believe in giving you affordable solutions at competitive rates. We understand that life happens, so we want to make the process as easy as possible.
Same day cash sounds awesome, right? Well, start getting the application process started. Loan proceeds once we have your personal information.
Champion Cash Loans Title Loans Houston, TX
How much cash do you need right now? Get a personal loan today with a title loan by Champion Cash Loans. Our loan approval rate is high because we want to help every person in need of money now. Why settle for the minimum loan amount when you can get the money you need now? We offer you the maximum loan amount once approved.
Car title loans are the best type of short-term loan you can get. Do you have an existing title loan right now? We can help refinance your existing title loan today. Just call our phone number and let us get started on vehicle evaluation. We will protect your personal information throughout the entire process.
Looking for a title loan in Laredo? Click here, or give us a call at 1-888-798-1970.