An RV, or recreational vehicle, is designed to serve as a vehicle and a home for those traveling around the country, camping, and more. There are many RVs, including Class A Diesel, Class A Gas, Class C, Class B, towable types, trailers, and campers. Depending on the type of RV you're interested in, it can be very costly. But we can both agree that it is worth it! Champion Cash Loans offers camper title loans to help you pay off your RV or refinance the equity in your travel trailer. Learn about the process of receiving an RV Title Loan, the requirements, and how much cash you will receive with Champion Cash Loans.
How Do RV Title Loans Work?
We make the title loan quotes online application process easy and convenient at Champion Cash Loans. The entire process takes about 30 minutes. Haven't been approved before? No problem! As a licensed title loan service, we can give you a loan quickly, unlike other lenders with longer processes. You must drive the RV to one of our locations and fill out the necessary paperwork. When provided with the loan, we become the lien-holder of your RV until the loan is paid off. The RV is used as collateral and you are still able to travel and enjoy your RV as you pay off the RV Title Loan.
Amount You Will Receive for Travel Trailer Title Loans
You may wonder how much money you will receive for your RV Title loan. The amount of money you will receive is based on a variety of factors, the value of the RV itself being one of them. Because RVs are priced higher, your loan amount will be more and we offer low-interest rates. Your credit score is not required when applying for an RV Title Loan, so you do not have to worry if you have bad credit. We will discuss the terms during your appointment and you will get the cash you need in a timely manner.
Need Cash Today? Apply For an RV Title Loan Near Me Today!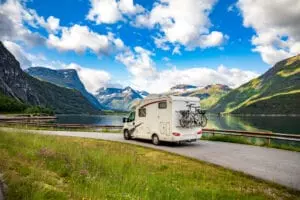 To apply for a title loan online and get instant approval, you may either fill out the application form online or call us at 1-888-798-1970 so that one of our customer service agents may start working on your application process. If you reside in California, Champion Cash Loans can help you get the money you need on RV Title Loans by simply applying online via our webform; we are fully licensed and bonded to proceed with title loans in California. 
Once we receive the application, we'll ask you to provide a few documents. You can turn them in either in person, by fax, email, or text message. Finally, once you are approved, look for the nearest title loan location to retrieve your cash the same day! We can even deliver it to your own home in some cases!
RV Title Loans Online Requirements
When applying for an RV title loan from Champion Cash Loans, you will need the following documents:
Valid ID
Proof of income (pay stubs, job letter, bank statements, unemployment or social security proof, among others)
Pink slip or vehicle registration
Proof of insurance
Proof of residence (utility bill, junk mail)
We conduct a quick inspection of your vehicle to determine the mobile home title loans amount we can offer you. After your loan gets approved, which will not take long, you will get your cash in minutes—located in the state of Florida? We can help you get RV Title Loans Florida. 
An essential requirement is that you own a home and do not live in the travel trailer, so we can determine the loan amount. 
Apply For RV Title Loans Online No Credit Check With Champion Cash Loans
Enjoy your time with your RV and pay it off as you travel with an RV camper Title Loan from Champion Cash Loans! Our trusted financial experts are here to answer any questions and help you get the cash you need when you're experiencing stress and need extra help. For the future, we also offer Car Title Loans, Truck Title Loans, SUV Title Loans, Motorcycle Loans, and Big Rig Title Loans. So what are you waiting for? Contact us today and let our specialists assist you.! It's as easy as 1, 2, 3!
RV Title Loans are a form of title loan that will be based on the applicant's ability to repay; Champion Cash Loans RV Title Loans are based on credit approval; we do check your financial credit only for past bankruptcies. Bad credit criteria are welcome for your RV Title Loan application. 
RV Camper Title Loans Near ME FAQs
Can I use my RV as Collateral for a Loan?

Yes, you must own a home and have paid off the RV from previous lenders or lien holders.

Can you get a title loan on a travel trailer?

Yes, the travel trailer must be paid off.